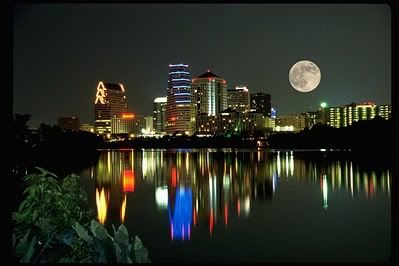 I've put together a special edition of the 'cast this week, turning the spotlight on some of the bands in this extremely fertile Austin music scene. Mind you, this just barely scratches the surface of the wealth of excellent artists who are either natives or simply got here as fast as they could. It's kind of amazing that the 35th largest city (metro area) has a scene that rivals that of much larger cities around the world. So,
Welcome To Austin
.
Crap on a stick! I had to take this Beat'cast down, but check the tracklisting:
GIRL IN A COMA
"Transmission" (Blackheart), from
Adventures In Coverland
- I'll bookend the 'cast with the one band not from ATX in the lineup, but they're from San Antonio so for our purposes that's close enough. A quartet of ladies, signed to Joan Jett's label, they issued this disc of cover tunes last year. I love it when bands give an established favorite a new treatment, and the Girls nail it here.
FOLLOW THAT BIRD!
"The Ghosts That Wake You" (Matador), from
Casual Victim Pile: Austin 2010
- This was perhaps the song universally singled out for praise on last year's Cosloy-curated comp. Their website says we can expect a full-length sometime this year. Sample more music
here
.
THE BLACK ANGELS
"Telephone" (Blue Horizon), from
Phosphene Dream
- One of Austin's better known bands on a wider level, this single proved that the Angels are capable of much more than languid, hazy trips into space.
[DOWNLOAD] RINGO DEATHSTARR "Imagine Hearts"
(Club AC30), from
Colour Trip
- About to finally release their full-length debut after several singles and EP's, the band enjoys followings in both the UK and Japan and, to this point, will be releasing the full-length on a British-based label.
Colour Trip
hits February 14th in Britain, March 9th in the US. Recommended if you like lots of reverb (and I SURE DO). (via
The Mad Mackeral
)
YELLOWFEVER
"Cats and Rats" (Wild World), from
YellowFever
- Austin natives Jennifer Moore & Adam Jones have been fixtures on the local scene for the last few years. Her voice recalls Stereolab's Laetitia Sadier and their brand of art pop has been singularly unique among Austin bands. The Vivian Girls made a self-titled compilation of the band's recordings the first release on their new Wild World imprint in late 2009.
MONAHANS
"Diamonds" (self-released), from
2010 Recordings
- In March, this quartet pledged to release a song a month throughout the rest of 2010, and that they did. Most of 'em will comprise an upcoming full-length release. In the meantime, download this and two others - one features vocals from Sinead O'Connor -
here
. Bassist Josh Zarbo used to be in Spoon.
HARLEM
"Friendly Ghost" (Matador) from
"Hippies"
- Like many Austinites, myself included, Harlem aren't natives but got here as fast as they could. Their Matador debut from last year earned solid notices, upping the ante for the follow-up that I'll imagine will be recorded sometime later in 2011.
SHAPES HAVE FANGS
"Rattle and Confuse Me" (self-released), from
Dinner In The Dark
- I'm really loving what I've heard from their latest effort, presently available only on cassette. Listen to "The Desert" from last week's
New Tunes Tuesday
.
UME
"The Conductor" (self-released), from
Sunshower
EP - While the trio's Sunshower EP is a full two years old, I couldn't resist the chance to let more people know about 'em. Reviving the best parts of 90's alt-rock you just don't hear much of any more, singer/guitarist Lauren Larson is a force of nature. Their next release could make them famous.
SCHMILLION
"Fuse" (self-released), from
Schmillion
EP - Five high school girls form a band, and rock. Need I say more? Their debut EP was recently released but you can grab a few downloads at their site.
THE YOUNG
"Bird In The Bush" (Mexican Summer), from
Voyagers Of Legend
- A
Casual Victim Pile
alumnus, their debut was released late last Spring to excellent reviews. If you yearn for the days of Paul Westerberg at his best, spend a moment listening to The Young.
ENGLISH TEETH
"Dear Caesar" (self-released), from
Two
EP - The band's second release is a two-song EP that's another slab of British influenced garage rock. Catchy, upbeat, and will make you move. Somewhere there's probably a British band named American Waistline.
GIRL IN A COMA
"Femme Fatale" (Blackheart), from
Adventures In Coverland

- Bringing things full circle, the Girls take the VU & Nico classic and stand it on its head, turning it into a jaunty pop tune.