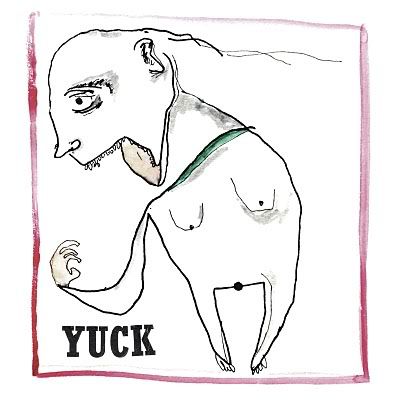 This exchange occurred Friday:
mike_taylor_atx
Really think that Yuck (
@Yuckband
) should have titled their record "Ewwww"
Yuckband
@mike_taylor_atx
that would have been too easy...
If you haven't heard or read about
Yuck
in the last year, then you've adroitly seen your way clear of a huge portion of the music blogosphere. Even though the last two years have been dominated by gauzy chillwave bands, Yuck seems an honest to goodness throwback: two guitars, a bass and drums. Sonic Youth, Teenage Fanclub, and Dinosaur Jr. have been dropped as reference points and as if on cue to solidify the connection, guitarist Max Bloom tweeted a link to J. Mascis' new song over the weekend.
TBB
blogged about the band as far back as July, when they offered up an EP of stripped down songs as their thinly disguised alter ego Yu(c)k. Now they're ready to unveil their proper full-length debut, and the first tracks released are impressive. Nonetheless, while UK hype often renders bands dead on arrival in the US, part of the band have been through the drill. Bloom and singer Danny Blumburg were members of another hotly tipped band circa 2007, Cajun Dance Party, that imploded after releasing one album.
"Holing Out" is the next single, out in February on the heels of "Rubber", released in October. The self-titled debut will be released February 21st on
Fat Possum
in the States and The Pharmacy Recording Co everywhere else. They're scheduled to play SXSW in March.
[STREAM] "Holing Out" by Yuck
[DOWNLOAD] "Rubber" by Yuck
"Rubber"
video
NSFW: