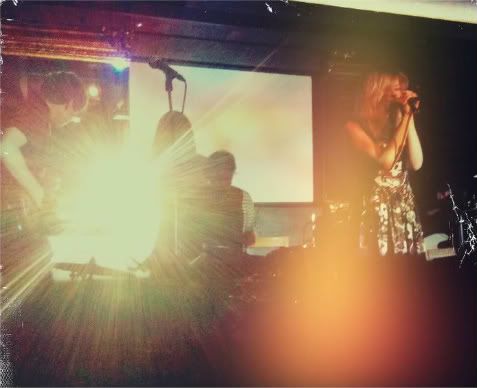 Still Corners
just may rank at the top of my 2010 discoveries. Swoonworthy dream-pop that's simply gorgeous, the London quartet just dropped a new tune, a cover of
Rogue Wave's
"Eyes". The band has a deep love of film and 60's sound production, full of swirling organs, big drums and lush vocals.
Broadcast
doing
Mazzy Star
.
[DOWNLOAD]
Still Corners - "Eyes" (via Neu Magazine)
Word is that in addition to this freebie, they'll be releasing a single via the mighty
Sub Pop
in the New Year, but I've yet to find confirmation on the information superhighway.
Their Myspace page
lists a date at Glasslands in Brooklyn on March 11, so swinging by Austin for SXSW is, like, yeah. Basically, I want me some of this:
Still Corners @ St. Giles In-The-Fields Church, London, November 17, 2010
Sample these
New Tunes Tuesday
selections from earlier this year:
[MP3] STILL CORNERS "Don't Fall In Love"
[MP3] STILL CORNERS "Endless Summer"