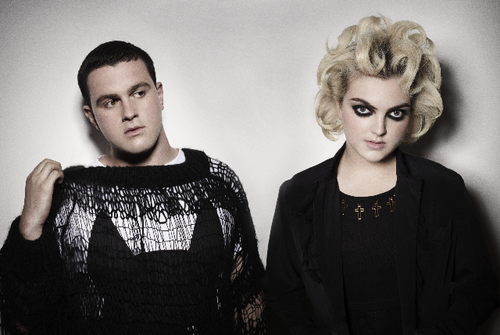 It's the reaction every band hopes to get from you:
"This is awesome!"
Y'see, I'm not one of these guys that needs to hear the entire record before I can get interested in or excited about a band. Just one song - that's all - can flick my switch to love. Two songs, and I'm damn near a stalker. Kudos, then, to
The Recommender
for introducing me to London duo
Paper Crows
. Allow me to do the same to you.
18 year old Emma Panas and Duncan McDougall (age 24) have been making music together for about a year and are currently recording their first album with the production team
Future Cut
(
Lily Allen
,
Dizzee Rascal
). Emma's vocals are haunting and ethereal, even a bit gothic, so if you're a fan of
Bat For Lashes
or the
Cocteau Twins
or our new crush
Esben and the Witch
, this'll be right in your wheelhouse.
Their debut single "Stand Alight",
recently released
via Future Cut, is a stunner. It buzzes and builds and draws you in, enveloping the listener with a warm, comfortable hum.
[MP3] PAPER CROWS "Stand Alight"
But if for some reason that hasn't intrigued you or you'd simply prefer a bit more tempo,
Monsieur Adi
(
Marina & the Diamonds
,
Ellie Goulding
) arrives, adding plenty of extra bounce. A classic remix, it gives the song a totally different sound.
[MP3] PAPER CROWS "Stand Alight" (Monsieur Adi Remix)
And for this guy, the knockout punch comes with the pair's cover of
Kate Bush's
"Cloudbusting" set to the backbeat of
Björk's
"Human Behaviour". It garnered several immediate, repeat listens and I'm guessing it might do the same for you. So, that's strike 1, 2, and 3 for me: I'm in...and looking forward to more.
[MP3] PAPER CROWS "Cloudbusting"
(Kate Bush cover)