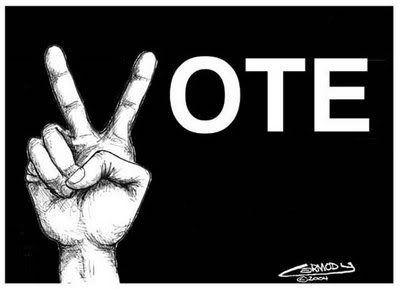 [MP3]
Sweet Lights "Endless Town"
(self-released) - After a decade fronting Philly's
The Capitol Years
, Shai Halperin has gone all one-man-band under the name
Sweet Lights
. I really enjoyed his self-titled debut and while you can grab a few freebies on
Bandcamp
, you simply can
pick up the entire record
for a mere 7 bucks. There's also a non-album cover of the Traveling Wilbury's "Handle With Care" out there for free, too. (via
I Guess I'm Floating
)
The Answering Machine
"Lifeline" (
Heist Or Hit
) - The title cut from their second CD, due in 2011 and a likely single choice, this might be one of the more full bodied tracks on the record. I like the way the band utilizes space in the middle of song to, in essence, reload for the finish. Watch TAM play an acoustic version
here
.
[MP3] Warpaint - "Bees"
(Rough Trade) - Of the current batch of neo-shoegazing chillwaveblisspop bands, I'm tipping these ladies as the most promising. Their upside is pretty huge and
The Fool
, their just-released debut, should quickly move them beyond tastemaker's darlings. "Bees" leaps out of the speakers, an unquestioned highlight of the disc.
Daft Punk
"Derezzed (Tim MCJ remix)" (n/a) - Southport, England's
Tim McCarthy-Johnson
has been a DJ & producer for about 15 years. He took the snippet of Daft Punk's first offering from the upcoming
Tron: Legacy
soundtrack and mixed it into a first-rate tune, kindly sending it out to a list of bloggers including yours truly.
[MP3]
Daft Punk - Derezzed (Tim MCJ remix)
by
Tim MCJ
James Blake
"I Only Know (What I Know Now)" (R&S) -
Pitchfork
is usually pretty naked about artists they're really going embrace. A
Rising
feature coupled with regular Playlist or Forkcast entries often act as stepping stones to a Best New Music mention. Currently, London's
James Blake
seems to be reaping the benefit of their support and no matter what you may think of PF, that's massive. At all of 22, Blake has 4 EP's under his belt, the latest coming a few months ago,
Klavierwerke
. Very much in the dubstep realm, Blake puts a friendlier face to the genre that an artist like
Burial
does not. This is less dark, seemingly more personal and as a result, more approachable. The song is sparse and pretty. Pretty sparse, more accurately.
[MP3]
James Blake - I Only Know (What I Know Now)
Disclosure
"Offline Dexterity" (Moshi Moshi) - Speaking of dubstep, I featured this promising pair of teenage brothers
not long ago
. Most definitely worth repeatedly bringing them to your attention.
Crystal Castles (ft. Robert Smith)
"Not In Love" (Fiction) - I don't know about you but I stopped paying serious attention to
The Cure's
work a long time ago. Like, nearly a generation ago....so maybe, this is the platform where ol' Bob just might work best: as a surprise guest vocalist.
Crystal Castles
covered this song from Canadian new wave heroes
Platinum Blonde
on their self-titled record earlier this year. Enter Mr. Smith to give the song a new feel, to be issued as a single on December 6th.
[MP3]
Crystal Castles (ft. Robert Smith) - "Not In Love"
(via
Slicing Up Eyeballs
)
65daysofstatic (ft. Robert Smith)
"Come To Me" [single version] (Hassle) - Back to back Bob on The Big Beat, baby! As
65dos
have opened for The Cure on several tours, the instrumentalists allow Smith to handle the vocals on their first honest-to-goodness song with lyrics. The band enjoys a worldwide following and although the lack of distribution and promotion have kept them under the radar in the States, 4th CD
We Were Exploding Anyway
, released in April, peaked at #99 in their native Britain, proving their profile is on the rise.
[MP3] The Joy Formidable "I Don't Want To See You Like This"
(Canvasback / Atlantic) - After being blown away by debut set
A Balloon Called Moaning
, this first single from
The Big Roar
sounds like the Welsh trio is pulling their punches a bit. A little more produced, perhaps; a little less ragged exuberance. Not bad, but I'll wait for the full before rendering a verdict. Check the vid
here
. (via
The Boy With The Thorn In His Side
)
Trophy Wife
"Microlite" (Moshi Moshi) - Straight outta Oxford (England) comes this trio who just released their debut on the ever on-the-money Moshi Moshi label. With stated influences
The Notwist
,
Studio
, and
Ennio Morricone
, you'd be correct in assuming there's a motorik, cinematic quality to their work and first single "Microlite" confirms that. A UK tour supporting fellow Oxfordites
Foals
begins this week. B-side "Take This Night" is worth a listen as well.
[STREAM]
Trophy Wife - "Microlite"
(via
ListenBeforeYouBuy
)
[MP3] Braids "Lemonade"
(Kanine) - Calgary formed, Montreal based
Braids
seemed to enter the recent CMJ Festival with a fair amount of momentum and emerged with an additional head of steam. There's probably nothing quite like
a notice
from the
New York Times
to put in your scrapbook (
Stereogum
was
also an early supporter
), especially for a band whose debut of dreamy artpop doesn't hit until next year. (via
Stereogum
)
Gold Panda
"Same Dream China" (Ghostly) - Debut full-length of instrumental electronica from UK beatmaster, real name Derwin 'Panda', who has earned a growing reputation remixing fellow British acts like
Bloc Party
and
Little Boots
. An interesting assortment of trance-like ambience, tape loops, and Balearic beats make for an alternating soothing and challenging listen.
The Sir Not Appearing In This Film Flying Fickle Finger of Fate goes to:
The Soft Pack
"Answer To Yourself" (Kemado)
Gang Gang Dance
"House Jam" (
XXXChange
remix) (n/a)
Previously:
New Tunes Tuesday - October 19, 2010
New Tunes Tuesday - October 12, 2010

New Tunes Tuesday - September 28, 2010
New Tunes Tuesday - September 21, 2010
New Tunes Tuesday - September 14, 2010
New Tunes Tuesday - August 24, 2010
New Tunes Tuesday - August 17, 2010
New Tunes Tuesday - August 10, 2010