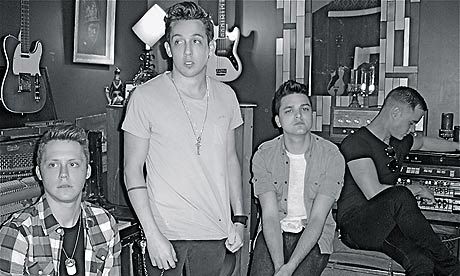 Happy Thanksgiving, everyone!
I don't know about you, but this is my favorite holiday. Not a lot of pressure, just food, friends, football and a bit of downtime. We're staying put in Austin but will be thinking about our families back in Ohio. Hers is near Hillsboro and mine's in Dayton, to be precise.
The Gem City also happens to be the hometown of
Mona
. The quartet won the 2005 Dayton Band Playoffs before relocating to Nashville the following year, and are the latest from the Music City hoping that the path to stardom winds through London. Just as
Kings Of Leon, Cage The Elephant, Be Your Own Pet
, and
Caitlin Rose
- all Nashville based - really launched their careers by spending a considerable amount of time cultivating a British audience, Mona is following their lead.
Their first trip to the UK came barely two months ago after being named to
NME's
Best New Bands of 2010
list. Now, they've a tour scheduled throughout December that includes the opening slot on a Brixton Academy bill with the
Manic Street Preachers, White Lies, Two Door Cinema Club,
and
The Drums
. Just last week, Mona appeared on Jools Holland's show alongside up-and-comers
Robert Plant, Adele, and Arcade Fire
. Watch 'em performing their debut single "Listen To Your Love".
Make no mistake: Mona make anthemic, radio-friendly music that could very well see them following KOL and Cage The Elephant to success in the US charts. Perhaps they'll be the latest musical success story from Dayton, Ohio, USA, joining
Guided By Voices, The Breeders, Brainiac, the Ohio Players, Hawthorne Heights
, and so on. Sample their take on
Beach House's
"Walk In The Park":
Mona - "Walk In The Park"