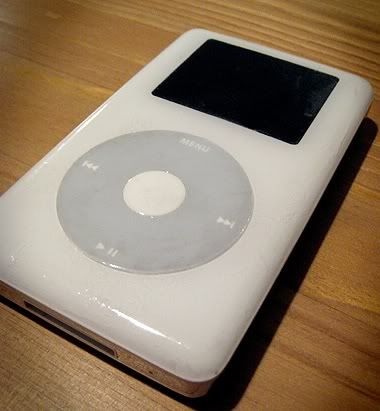 When I was full-on at WOXY, I immersed myself in new releases nearly all the time. So much so, that I never lingered too long on even my most favorite new discs: gotta move on, gotta go, gotta find the next favorite band. As a result, I hardly ever touched my iPod. Hell, that's where the old stuff was! Still, I kept stockpiling CD's and would tell people that I was building my record collection for the rest of my life.
So now, nothing gives me a bigger kick than walking the dogs and putting the 40GB on shuffle and just being surprised as to what comes up. Obscure tunes, all-time favorites and songs I mentally note to delete are all fighting in the mix. I'll think a random segue might be worthy of airplay. Lately, if the mix is rockin', I've taken to driving past the entrance to our subdivision and head for the wide open spaces of Texas because
nothing
,
absolutely nothing
, beats driving with the sunroof open, the windows down, and the stereo cranked on a warm, sunny day. And, thank goodness, there's a lot of those in Austin.
Often I just enjoy the randomness of it all. I guess
this
is what I was missing out on by staying laser-focused on the radio station. Plus, I love how a shuffle often provides a glimpse, if not a snapshot, of one's collection and greater musical taste. Over the past few months, I've digitized so much music that my hard drive is full. My goal is, of course, to upgrade to the 160GB iPod. No videos. No games. Just music, as originally intended.
So, here's the latest long shuffle from my old beast, Version 3.1.1, currently with 5155 songs. There's still work to do. BTW, it looks like it's Foals, FTW:
A Place To Bury Strangers - Dead Beat
The Black Angels - Telephone
Atlas Sound (w/ Laetitia Sadier) - Quick Canal
Pixies - Down To The Well
Missing Persons - Walking In L.A.
Foals - Miami
Foals - Olympic Airways
Wolf Parade - Fancy Claps
Orange Juice - Poor Old Soul (Part Two)
The Beatles - Get Back (Love OST)
Chuck Berry - You Never Can Tell (Pulp Fiction OST)
The Maxwell Implosion - Grasshopper
The Long Blondes - You Could Have Both
M.I.A. - Paper Planes
Snow Patrol - Wow
Sharon Jones & the Dap-Kings - I'll Still Be True
The Muslims (The Soft Pack) - Extinction
Rush - Limelight
PJ Harvey - Me-Jane
Kate Bush - Watching You Without Me
Foals - This Orient
Moby - Run On
Sonic Youth - Sugar Kane
The Psychedelic Furs - President Gas
Spacemen 3 - Walkin' With Jesus (Sound Of Confusion)
Squeeze - Up The Junction
The Kinks - A Well Respected Man
Daft Punk - One More Time
Elbow - Weather To Fly
David Bowie - Diamond Dogs
ABBA - Super Trouper
Jethro Tull - Thick As A Brick (single edit)
Heart - Dreamboat Annie
Sex Pistols - No Feelings
Imelda May - It's Your Voodoo Working
Squeeze - Annie Get Your Gun
The Lodger - You Got Me Wrong
Jonsi - Around Us
What do some of your mixes look like?