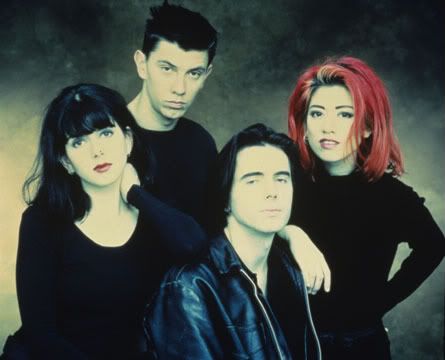 Lush: Emma Anderson, Chris Acland, Steve Rippon, Miki Berenyi
While the headline of this post is about the debut from
Seinking Ships
, the context is going to focus on the first noticeable appearance in nearly 15 years by
Miki Berenyi
, the former lead vocalist of a band I adore:
Lush
.
OK, Seinking Ships. It's a new project of
Eric Matthews
(Cardinal, solo work on Sup Pop) and
Christopher Seink
, a veteran of several bands in Northeast Ohio. Their debut
Museum Quality Capture
, years in the making, is a mostly instrumental effort inspired by the pair's mutual love of film soundtracks. Seink's appreciation of Lush led him to reach out to Berenyi, long out of the spotlight and working as a copy editor in the UK since Chris Acland's suicide brought Lush to an abrupt, tragic end in 1996. After Matthews wrote the lyrics specifically for her, arrangements were made to have the vocals recorded in London. She's featured on three songs, the only ones with lyrics on the disc. It's available now on
S-Curve Records
.
[MP3]
Seinking Ships "You Didn't Love Me" (feat. Miki Berenyi)
[STREAM]
Seinking Ships "We Will Drink Wine" (feat. Miki Berenyi)
[STREAM]
Seinking Ships "Digging His Own Hole" (feat. Miki Berenyi)
Now, word of Berenyi resurfacing sends this fan's heart aflutter. Despite an extremely by-choice low profile, her limited interviews over the years reveal a performer at peace with life out of the public eye and content in her role as wife, mother, and office worker. However, two interviews she gave earlier this year offer a glimmer of hope that should the right circumstances be presented, a reunion may still be possible.
Speaking to
The Quietus
to commemorate the 20th anniversary of their debut EP,
she explained
that
"some guy at All Tomorrow's Parties offered for us to do gigs playing (debut full-length) Spooky. We got quite excited, but then he came back to us and said he had listened to the album and realized he never really liked Lush so he'd changed his mind about the gigs. Call me petulant, but that kind of flaky cuntishness puts me off wanting to return to the music business."
Reiterating the point in an
subsequent interview
with the blog
The Von Pip Musical Express
, she confessed
"I'm afraid that the honest answer is not unless we were offered an awful lot of money. I have enough trouble finding the time to answer these questions let alone relearn the entire Lush back catalogue, rehearse with a new drummer and actually schedule time to play the gigs. So if we did it, I would have to stop work, and if I stop work, then how do I pay the bills?"
Her Lush bandmate
Emma Anderson
, in the same interview, echoed the sentiment:
"If the money was right then, yes, we would do it but I think promoters would have to come to us so we would be in the driving seat. Who knows what may happen in the future."
So, while that's a water-under-the-bridge missed opportunity, I came away with the feeling that at the very least, a reunion
was
considered and therefore, still possible. 2011 will mark the 20th anniversary of Lush's 2nd US tour, co-headlining with another band ripe for reuniting:
Ride
. Considering the current plethora of chillwave/shoegazing outfits whose lineage can be traced back to both of these bands, wouldn't a reunion of one or both be wildly received?
Coachella
, if you're listening, here's two ripe for your intervention.
BTW - this is one of the best videos I've ever seen. The use of color is amazing.
Lush - "De-Luxe" (from the
Mad Love
EP (UK),
Gala
(US compilation)
Lush - "For Love" (from
Spooky
)
Lush - "Hypocrite" (from
Split
)
By 1996, Britpop was in full force and headed across the Atlantic. Lush responded with
Lovelife
, which incorporates more of the guitar-pop that defined the genre. Some critics called it a sellout. I thought it a perfectly timed shift that captured the sound of the moment while maintaining all of the band's trademarks. Case in point, Berenyi's confessional "Ladykillers":
Lush - "Ladykillers"
Fans should investigate
Light From A Dead Star
, perhaps the ultimate Lush tribute site.