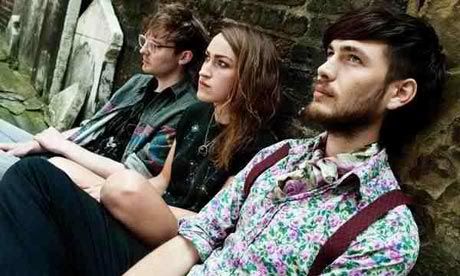 Yesterday was a planned NTT hiatus, which I'll have periodically, but that doesn't mean there's not any new music worth sharing
(although it might mean there's not a lot of new music worth sharing -ed.)
. It should be obvious by now that like a lot of bloggers, I don't have the inclination to write about every release that comes along, and tend to focus on bands I like. I like
Esben and the Witch
, so here's another post about them.
The first UK band signed by Matador Records in six years just released their debut EP, for the previously NTT'd
"Marching Song"
, earlier this month. Now the label's keeping the interest and momentum up by releasing the edit of "Warpath", the first track from their full-length debut
Violet Cries
, released on February 8th (UK: January 31st).
Perhaps perfectly timed for Halloween, "Warpath" is another ethereal, gothic song from the trio that the label was good enough to offer as a free download.
[MP3] ESBEN AND THE WITCH "Warpaint" (edit)
(via
Matador Records
)
Also...
[MP3] ESBEN AND THE WITCH "About This Peninsula"
(self-released), from
33
EP