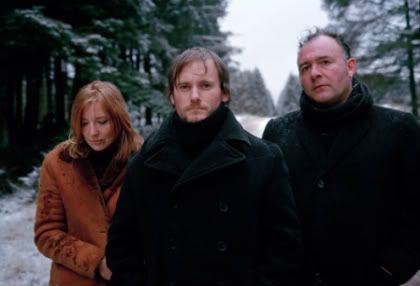 Portishead
disappeared for nearly a full decade following the release of their
Roseland NYC Live
disc in 1998, returning just over two years ago with
Third
(my
favorite album
of 2008). Earlier this week, Geoff Barrow told
6Music
that he, Beth Gibbons, and Adrian Utley would be spending the rest of the summer
writing their next effort
. He went on to say that the band has signed a new deal with "the biggest record company in the world", hinting at some dissatisfaction with the promotion of
Third
in the UK, but declined to reveal who it was.
While Gibbons' Garbo-like media silence is legendary, Barrow has acted as the band's primary spokesperson and has been far more active in recent years. He presided over
The Horrors
' reinvention, producing last year's
Primary Colours
, and has engaged in a side project called
Beak
>, which recently released a
new single
.
Considering Portishead's previous hiatus of nearly
My Bloody Valentine
proportions, time will tell as to when anything will trickle out. It should be noted that last Autumn, Barrow
declared nearly the same thing
, that work had begun on the band's fourth record. Clearly, though, some work was completed: the charity single "Chase The Tear" slipped out last December without much fanfare, offering a glimpse of what may in store from the new record.
Portishead - Chase The Tear
from
Mintonfilm
on
Vimeo
.
Download the digital-only track, with proceeds going to Amnesty International,
here
.