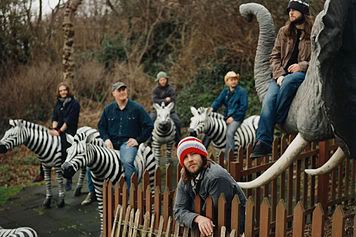 Before there were three
After several years on the extreme down low,
The Bees
(aka A Band of Bees) have issued their first bit of new material since a
limited edition single
in 2008. "Silver Line" has been made available as a free download and arrives on the heels of some new activity by the band. A new and revamped
website
, a Glastonbury appearance, a new label (Fiction), and their first hometown gig on the
Isle of Wight
in years is all in advance of the new
Every Step's A Yes
due later this year.
While this is, yes, the same outfit that gave us the goofy
"Chicken Payback"
a full six years ago, most of their work has had the warm glow of well-worn, 60's-inspired psych-folk. Not too surprising, then, that lead singer Paul Butler had a hand in producing last year's major label debut from
Devendra Banhart
. The layoff also halved the Bees, pared down to a trio after operating previously as a full six-piece band.
"Silver Line" is a laid back, li'l acoustic tune with pretty harmonies that you could envision being sung around a campfire.
The Bees - "Silver Line"
[MP3] (via NME.com)