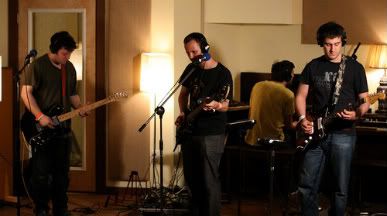 You never have to look very hard to find an act whose rave reviews start an avalanche of momentum. But, for every
Sleigh Bells
,
Surfer Blood
, and
Neon Indian
, there's
Gonjasufi
,
Pantha du Prince
, and others. While good, or even great, reviews may earn additional notices or look sees from casual observers, they alone often won't push the band towards breakout status. Much of that simply comes down to timing: touring or the lack thereof, release date, label affiliation, the crowded marketplace or, no matter how well reviewed, is still a bit too on the fringe musically. And truth be told, these are the records and bands that you make the extra effort to champion. The ones that aren't getting the love and attention
you
feel they deserve. My yearly best-of list tends to be filled with 'em.
So, it's with great anticipation that
Working For A Nuclear Free City
has announced the release of their second full-length,
Jojo Burger Tempest
. Coming after a long period of silence, news is coming fast and furious about what they describe as another "20 odd track" 2-CD set, much like their
Businessmen & Ghosts
debut.
A (self?)
interview
has been posted on the band's
Facebook
page, revealing the extent of the recording process (18 months), influences (
Ryuichi Sakamoto
,
Philip Glass
,
Autechre
), and details of the 30 minute (!!) title track. Despite saying that
Jojo
was recorded with a complete disregard for being played live, they've asked for help and suggestions about organizing a US tour, also via their Facebook page.
Although
Amazon UK
lists a September release date, the band state it should be out digitally "within the month" in both the US and UK via
Melodic Records
. In the meantime, here's WFANFC in session with yours truly during SXSW 2008.