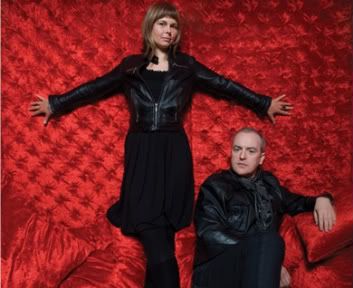 I'll admit to arriving late to
The Vaselines
, the post-C86 band that emerged from Scotland in the late 80's and broke up after releasing a few EP's and one full-length of influential indie pop. And you probably heard that Kurt Cobain was such a fan that he would name his one and only daughter after the band's Frances McKee. OK then, fast-forward to 2008 when McKee reunites with singer Eugene Kelly for a handful of shows that eventually moves Sub Pop to issue the very slick
Enter The Vaselines
last year. This led to select US tour dates, and there was much rejoicing. (
Enter The Vaselines
compiles and remasters nearly the band's entire recorded output, along with a few demos and live recordings. Damn near essential.)
The pair now take the reunion to the next logical level, with a brand new album called
Sex With An X
due September 18th, also on Sub Pop. UK tour dates have been announced and again, much rejoicing. Sample the first offering from the disc "I Hate The 80's" by heading to their
website
, or refresh your memories with perhaps their best known song, "Son Of A Gun".
THE VASELINES 2010 UK Tour
Sept 15 Edinburgh (Bongo Room)
Sept 16 Newcastle (Other Room)
Sept 17 Leeds (Brudenell Social Club)
Sept 18 Liverpool (Static Gallery)
Sept 19 Cardiff (Millennium Music Hall)
Sept 20 Nottingham (Rescue Rooms)
Sept 21 Bristol (Thekla)
Sept 22 London (The Scala)
Sept 23 Manchester (Deaf Institute)
Sept 24 Glasgow (Oran Mor)
[MP3] The Vaselines - "Son Of A Gun"
My heart skipped a beat yesterday upon receiving a tweet announcing some upcoming US dates from another longtime fave,
Bettie Serveert
. Unlike The Vaselines, the Betties have quietly soldiered on uninterrupted, releasing new records on a series of smaller indies after their first three discs arrived via Matador in the 90's. Their latest,
Pharmacy of Love
, came out in March and they'll be hitting the States for a full month's worth of shows.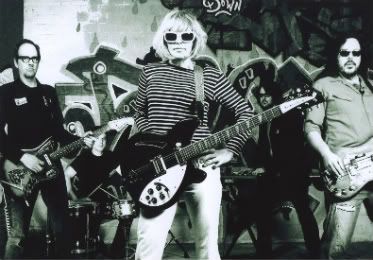 BETTIE SERVEERT 2010 North American Dates
Sep 23 Cambridge, MA (T.T. the Bear's)
Sep 24 Hoboken, NJ (Maxwell's)
Sep 25 Brooklyn (Southpaw)
Sep 26 Milford, CT (Daniel Street)
Sep 28 Toronto (The Drake Hotel)
Sep 29 Cleveland (Grog Shop)
Sep 30 Detroit (Magic Bag)
Oct 1 Chicago (Abbey Pub)
Oct 2 Minneapolis (First Avenue & 7th Street Entry)
Oct 4 Denver (Larimer Lounge)
Oct 6 Spokane (Empyrean Coffee)
Oct 7 Seattle (Tractor Tavern)
Oct 8 Vancouver (Biltmore Cabaret)
Oct 10 Portland, OR (Dante's)
Oct 12 San Francisco (Cafe Du Nord)
Oct 16 Tucson (Plush)
Oct 17 Albuquerque (Launchpad)
Oct 19 Dallas (The Prophet Bar)
Oct 20 Austin (Stubb's)
Oct 22 St. Louis (Blueberry Hill)
Oct 23 Nashville (Exit / In)
Oct 24 Atlanta (The Earl)
Oct 25 Chapel Hill (Local 506)
"Deny All" is from the new record, while "Tom Boy" is one the 90's most overlooked alt-indie anthems from their
Palomine
debut.
[MP3] Bettie Serveert - "Deny All"